Author: Robert Abong'o
AfricaPress-Kenya: Former boxing champion Conjestina Achieng is responding well to treatment at the Mediva Wellness Centre in Thika.
Conje was admitted at the rehabilitation centre in September after the National Authority for the Campaign Against Alcohol and Drug Abuse (NACADA) offered to assist the former boxing champion.
NACADA, after consulting with Conjestina's family, is also paying for her one month treatment.
"We call on other Kenyans of goodwill and partners to support this initiative so that this icon of female boxing in Kenya receives the much-needed treatment and support so that she can get back on her feet. As a role model to many and upcoming boxers Conjestina's good health is important so that she can continue mentoring young boxers," said NACADA Chief Executive Officer Victor Okioma.
Sports presenter Caroll Radull on Thursday, October 15 gave an update of Conjestina's condition, posting a picture of the ex-boxer on her Twitter handle with the caption: "Conjestina Achieng's treatment NACADA Kenya approved facility is going well. She began her 3rd month on Oct 13th. As you know rehabilitation is a process with good and bad days but progress is all we pray for. Thank you for continuing to pray for her and support her fund…"
'Conje' who has been suffering from a schizoaffective disorder/paranoid schizophrenia had retreated to her home in Siaya County, several months after Nairobi Governor Mike Sonko came to her aid.
Sonko, on 2 November 2018 airlifted the boxing icon from Siaya to Nairobi for treatment and rehabilitation.
This was an immediate reaction following a drive by NACADA Director and comedian Vincent Mwasia Mutua alias 'Chipukeezy' who had sought the former world boxing super middleweight champion after a video of her sad state emerged online.
Months later, the Nairobi Governor visited Conjestina at the Eden House Lalapanzi Rehabilitation Centre in Diani, to monitor the progress the former boxing champion had made in her road to recovery.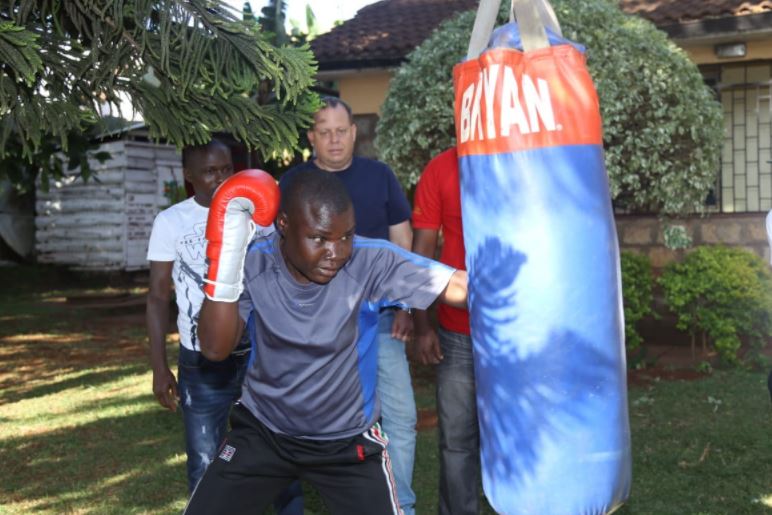 On Tuesday, July 28, Radull shared pictures on her Twitter – a visit she had made to Conjestina, in her home in Yala, Siaya County.
With her, she carried foodstuff among other supplies, which Conjestina's family humbly accepted.
Radull stated that the former boxer's rehabilitation plan needed a fresh look, with a framework supporting her talents.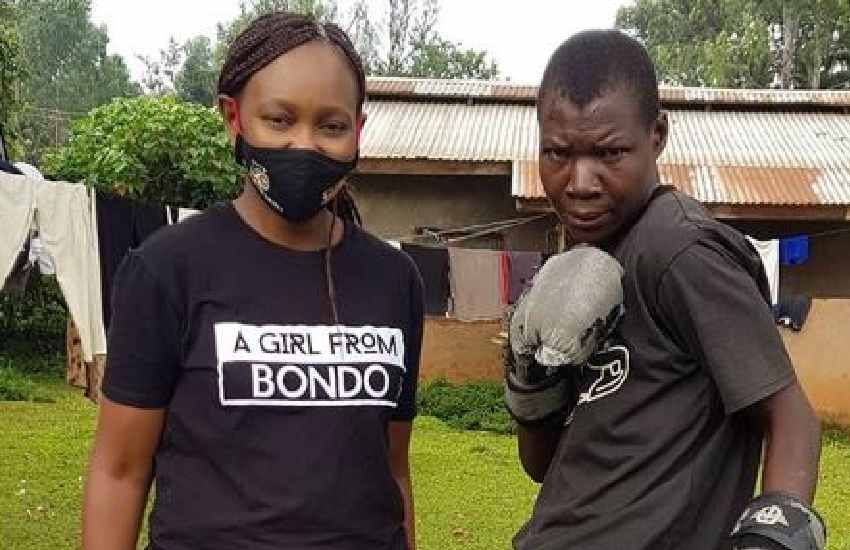 "A few days ago Flora Radull and I visited Conjestina Achieng at her family home in Yala. She has been top of my mind since covid struck since so many sportspeople are struggling (more than usual) at this time," said Radull, who went on to explain how Conjestina needed help to stay away from abusive substances.
"She is, however, very angry at what she feels is a system that abandoned her at her time of need. She repeatedly said how she was on top of the world, represented Kenya but felt a lack of recognition," added Radull.
Radull, worried the legendary boxer was wasting away and noted different kind of help was needed to salvage the situation.
"In her humble hut; what struck me most was a shrine she had put up for silverware – shields and belts; her only reminder of what she used to mean to the country. I know many have tried to assist her in various ways but unfortunately, a lot of those moves have not worked. I am no medical expert, but I see little sense in taking someone to rehab for some time then returning them to the same challenging environment," explained Radull.
Radull also added Conjestina was not 'mad' but needed more rehabilitation to limit her use of abusive substances.
"In my layman's assessment; she is not mad but she does need more rehab to overcome her dependence on abusive substances. She also needs some counselling (anger management) but she then needs to be in an environment where her mind is kept busy; where her talent is being used; where she feels useful and appreciated," said Radull.